The main characteristics of the product and its security levels
[maxbutton id="4″ ]
Norton Antivirus download is the first step to any user security. The software program provides both all-in protection and data confidentiality. It tops the rating of the most purchased products according to the Amazon. The program effectiveness is proved by numerous Norton Antivirus reviews. The software is intended for scanning the operating system to find any viruses, ransomware, malware or spyware, as well as preventing them from being downloaded. Norton Antivirus is suitable for both individual and family use thanks to the flexible settings. Let's consider the characteristics of the software. The software has four versions. They are Basic, Standard, Deluxe, and Premium.
The operation of the first one is limited to three items:
user device protection
keeping the privacy during surfing the Internet
use of effective methods to remove potentially dangerous software promptly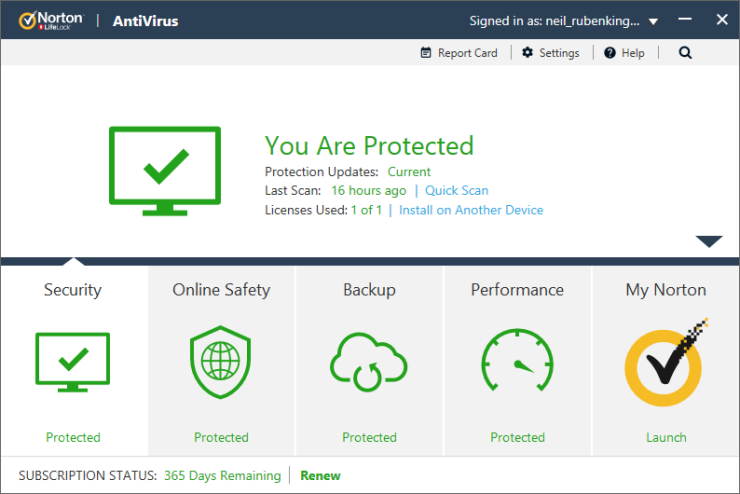 This version may be only installed on one PC or Mac. Having purchased the Standart version the client gets around-the-clock technical support (online or via telephone) and protection of the home network. Moreover, the use of this version guarantees to get a full refund in case the user data has been affected by any kind of malware. It is possible to use Norton Antivirus Standard for one PC or Mac, as well as only for one mobile device (Android, iOs or Windows Phone). The Deluxe version has the same functions. The only difference is that it may be installed on five devices: PCs, Macs, phones or tablets. In this case, a protection control is implemented through a web portal with a user-friendly interface. Norton Antivirus Premium is the most advanced version.
In addition to the above-mentioned functions, it allows:
Setting the parental control. It will help a child to avoid adult sites while using a device (within the Norton Internet security)
Customizing backups. The client doesn't have to fear for the data safety and its confidentiality
Using a 25 GB cloud storage. This volume may be increased for any needs
This version may be used on ten devices, including PCs, Macs, phones, and tablets. The Norton company provides regular updates of the software program. It allows supplementing the virus database with new threats and providing the current protection of the user device. Unfortunately, there is no free access to the Norton download. A trial version is available to learn more about the program. While installing the antivirus the user can select one of the languages: English, Russian, German, French, Spanish, Portuguese or Arabic. The Norton virus protection may be purchased for a year and needs a regular license renewal. There is often a discount for the first payment. The current price is displayed on the official website. The user can through PayPal, JCB, Discover, and American Express, as well as through Visa and Master Card. Also, the client can enhance the device protection by Norton security suite. A full list of products and services is available on the Norton website.
[maxbutton id="4″ ]
The most popular Antivirus Reviews