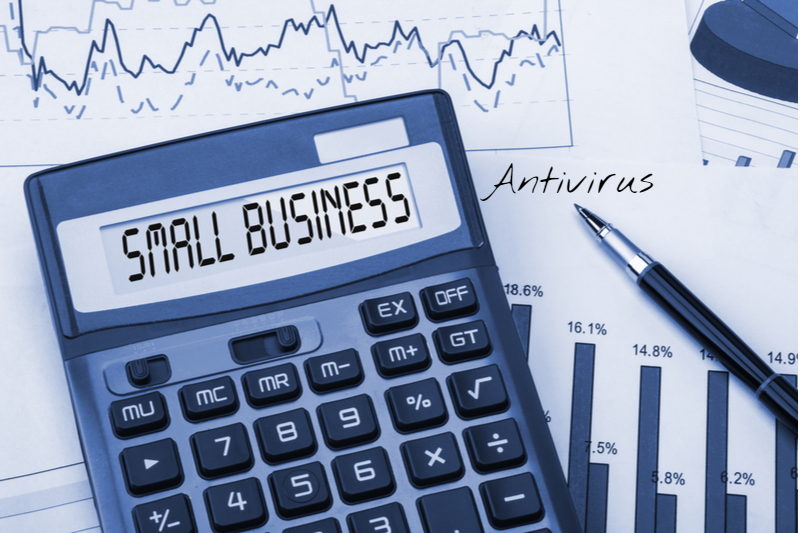 Overview
Nowadays, there is a considerable number of viruses and threats. They become more professional and resistant to various types of protection. Therefore, the classical antivirus, which was popular 10 years ago, will not cope with the threats of the modern world anymore. The user needs a powerful program complex which will provide antivirus email protection, protection against phishing, or spam. Such antivirus has to trace and neutralize a virus, block Internet access, etc.
More importantly, each business and corporate computer networks require special protection. Whether the small business requires antivirus? Of course! As your business grows, your customer base grows too. Today more and more users are concerned about the confidentiality of their data. And it is no wonder that whenever you do business on the Internet, you open the network for external threats.
So, what antivirus do you need to pick up for your business? Let's take a closer look at the five most reliable business antivirus solutions.
Norton Antivirus
Norton Small Business Antivirus is a high-quality malicious applications hunter which protects your computer automatically. But one of the main reasons why we picked it for our top list is that it is one of the most beneficial versions of the paid software for business security.
Norton Advantages for Business
Norton offers a wide range of settings and options for small businesses. Apart from the primary antivirus functions, Norton also provides convenient URL blocker. It protects the corporate network from harmful websites. If it misses something, the excellent function of files reputation heuristically distinguishes suspicious loadings immediately.
If malicious software finds any hole, intellectual monitoring of behavior uses the latest definitions of viruses to isolate threat at the first signs of a problem. You can always execute scanning on demand. Norton is a useful tool for adjusting the scans to check only those areas which are important for the coworker.
Norton also provides a straightforward and intuitive cloud-based setup and devices management through the remote access. Norton Small Business ensure functioning in all directions: it is simple in use and has the configuration parameters necessary for experts. It also has lab test scores and demonstrates the minimum impact on the productivity of your device.
We like:
Blocks even the new malicious software
Low influence on system resources
Reasonable prices
Decent antivirus protection
Cloud-based setup
Norton Disadvantages for Business
We faced some problems with the browser extension. Norton Identity Safe is an effective manager of passwords, and when it works correctly – everything is alright. But we observed that the version for Chrome sometimes ceases to work for no apparent reason. We look through a bunch of the reviewers and tests reporting about similar problems. Therefore, it seems it is a real-life problem. Also, Norton does not provide solutions for servers protection and comes with a somewhat limited number of features.
We don't like:
Unreliable browser extension
No servers protection
Number of features is quite limited
AVG Antivirus
AVG Antivirus is one more antivirus which is easily integrated into a system. It provides 3 solutions for a small business such as AVG File Server Business Edition, AVG AntiVirus Business Edition, and AVG Internet Security Business Edition. They will satisfy even the most demanding managers. AVG Antivirus is already installed on more than 5 million computers, and these numbers are demonstrative.
AVG Advantages for Business
AVG comes forward all thanks to high performance together with low consumption of PC resources. AVG Antivirus Business Edition has a large number of various protective functions, which are updated regularly. AVG will surprise you with its speedwork. And built-in email protection will save your coworkers from the installation of the additional software.
The unique function particular for AVG allows the user to scan the web page to detect viruses without loading of the page. This function is called the Link Scanner. AVG antivirus for business also offers identity protection and personal firewall. The additional online shield will prevent harmful downloads and other online threats.
Before any program starts, AVG antivirus checks the process and all files. Only after that, it can grant permission for action. Thanks to the built-in scanner, which can be adjusted for the schedule checks, the user has complete control over a situation. Finally, antivirus received the modern updated interface and the intuitive menu.
We like:
Powerful scanning algorithms
Verification of files before the start
Scheduled scanning
Timely updates
Expanded modules of protection: email scanner, links verification
Intuitive interface
AVG Disadvantages for Business
There is a risk of AVG of freezing on the outdated devices. So, it is possible to use AVG Antivirus only if your company is equipped with modern PCs. Due to this fact, AVG can take many sources of your computers because of their high requirements. Last but not least, it lacks some additional advanced features, which can be useful — for example, password manager, etc.
We don't like:
High requirements
Don't work well on the outdated computers
Lacks some advanced features
Kaspersky Antivirus for Business
Kaspersky is the most favorable solution here because it offers full security packages for small, medium, and large businesses. Kaspersky Antivirus for business is intended for reliable protection of corporate infrastructure and confidential data against the threats. Kaspersky advantages include the safety of business processes, minimization of data loss risks, and protection against financial, reputation, and other losses caused by malefactors.
Kaspersky Advantages for Business
Kaspersky antivirus is the safety package, which pays attention to all the essential elements of safety. It includes web filtration, dangerous URL blocking, the exact mechanism of virus detection, technologies of intellectual monitoring, etc.
We continuously find out that Kaspersky is one of the best in blocking malicious applications and removing them from the infected system. It is no wonder why this antivirus receives the appreciation of AV-Comparatives regularly. Its lab tests are impressive.
The program is easy-to-use because it has a well-elaborated interface. Only the necessary buttons and options are displayed. It is not too simple, but also it is not frighteningly tricky – there is a set of the screen instructions explaining how everything works.
Kaspersky Antivirus for Business guarantees reliable protection of the company software and confidential data against viruses, spying programs, Trojans and data encoders. The function of remote management allows controlling the security processes wherever and whenever it can be necessary.
We like:
One of the most effective safety packages
Easy-to-use
Wide range of solutions for various business types
Effective cloud-based assistance
Can be controlled remotely from a single console
Kaspersky Disadvantages for Business
The main disadvantage is that this solution is really heavy. It has many components and elements so that it may require much computer resources. Also, its mobile app is not elaborated enough, so it cannot be used for corporate purpose.
We don't like:
Not lightweight
Requires too many resources
Underdeveloped mobile app
Avast Antivirus for Business
Avast Antivirus is a good modern antivirus which received high popularity thanks to powerful protection not only against usual viruses but also trojans. After the last update, Avast received the modern user interface and the list of the functions unique for Avast (Intelligent Scanner, Sandbox, etc.), the increased productivity. The primary feature which made Avast popular worldwide is its largest antivirus base, which is replenished continuously.
Avast Advantages for Business
Avast updated to the latest version has own Sandbox in an arsenal. It is necessary for testing of dangerous files in the separate isolated environment. Sandbox represents the virtual copy of a system where it is possible to keep and check the suspicious. The provider even states that some of these files can be cured. With such a function, it's possible to avoid mistakes when working with the system files that appear infected according to the antivirus.
Besides, Avast for Business offers remote control. It is convenient because, utilizing antivirus, the administrator can connect to the remote computer and solve the arisen problem, without the corresponding permission. Such an advantage allows not to install the third-party programs allowing to be connected to remote desktops on the computer.
If you need precise, reliable and consecutive protection against malicious applications, Avast Antivirus for Business will be useful for you.
We like:
Constantly updated antivirus base
Real-time protection against viruses
Modern algorithms providing the high speedwork
Intuitive interface
Avast Disadvantages for Business
Avast does not offer automatic scanning. So, it can be quite uncomfortable to set up the scans manually. Also, we noticed some failures in spam filter functioning.
We don't like:
No automatic scanning
Spam filter works incorrectly
ESET Antivirus for Business
For the stable work for computers and mobile devices used in your office ESET has a number of effective solutions performing high-quality protection against all types of threats, such as viruses, rootkits, trojans, worms, or spyware. ESET NOD32 products use unique technologies of heuristic analysis and signature method, which allows to neutralize even the newest, previously unknown types of threats. The use of cloud technologies has significantly increased scanning speed with minimal impact on system performance
ESET Advantages for Business
ESET Antivirus is the best solution for your business because it is created for real-time protection against malicious software. It has one of the best heuristic sensors, high level of protection against Trojans, protection against exploits, URL filtration, malicious websites blocking, and modules for prevention of the hacker attacks.
The module of devices control limits the risk of infection with other devices, controlling access to USB, external hard drives, even to the devices connected through Bluetooth and FireWire. It is a somewhat unusual feature, but it can be useful if the coworkers regularly connect devices to corporate computers.
We like:
Effective security level
Remote control
Excellent heuristic technology
USB scans
Significant lab test results
Eset Disadvantages for Business
ESET Antivirus is not intended for beginners. The interface is sometimes clumsy; some functions are very advanced. Besides, this solution is not cheap; such a security level will require a high financial contribution. At last, ESET does not include many of those additional features other antiviruses have, which can be quite useful (like file shredder).
We don't like:
Rather expensive
Not for beginners
Lacks some useful features other antiviruses have
Our Winner
We would recommend you to use Avast Antivirus for Business as the most favorable solution. It has antivirus base, which is updated continuously, that makes it less vulnerable to various attacks. Its real-time protection function guarantees your business safety 24/7. It is lightweight and will not cease your corporate device performance thanks to modern algorithms. At last, it is easy-to-use and has an intuitive interface. Overall, it is worth your attention.
If you have another experience with some other business solutions, feel free to share them in comments!