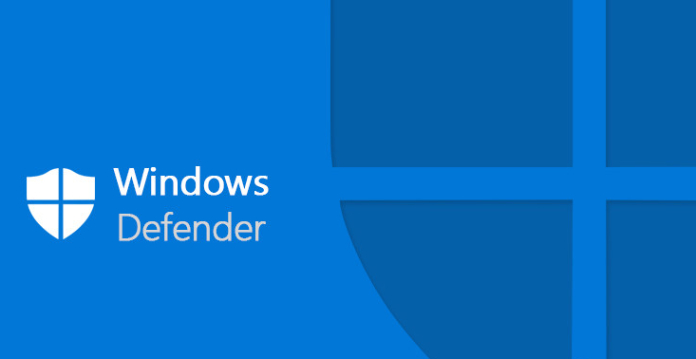 Windows has been providing antivirus solution for ages. However, in the recent few years, they have certainly upped their security game. It can no longer be termed as mediocre that it used to at the time of its creation.
Windows Defender antivirus and anti-malware tool have improved drastically over the last few years and so has been loved by many. Moreover, it is one of the best antiviruses in the free category.
The in-built antivirus solution on Windows 8.1 and Windows 10 Operating system offers protection against viruses, malware, Trojans, and spyware while managing other aspects of PC security as well. Regardless of whether you need it or not, Windows Defender antivirus solution is always present on your system and cannot be removed.
It will be automatically disabled when you install a third-party security solution. Many of the other respected antivirus brands will try and get you to upgrade to higher-paid packages. However, in this case, all you can have is free Windows Defender pre-built into Windows 8.1 and 10 OS.
You will get a one-way firewall, gaming mode, essential protection against malware and viruses, and parental control. However, if you want password manager, file shredder, and VPN service, look elsewhere.
Windows Defender Pros & Cons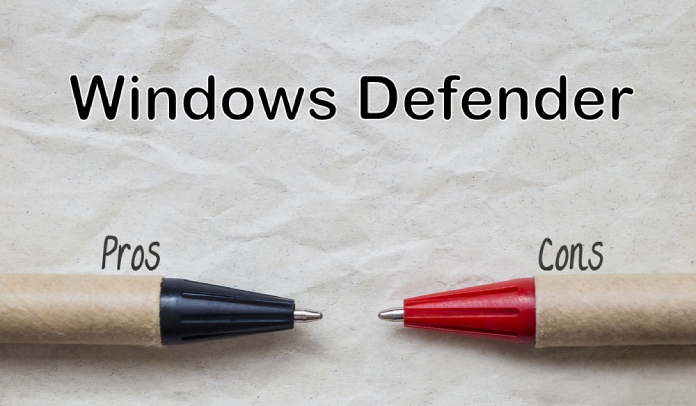 Windows Defender Pros
Excellent user interface
In-built into every Windows 10 Device
Real-Time Protection
Minimum system impact
Offline scanning for malware
Excellent User Interface
Windows Defender has a sleek and clean interface that is unobtrusive and works silently in the background. It won't annoy with continuous notifications and popup windows, saying to upgrade plans and ads. The antivirus solution can perform virus and malware scans automatically require minimal interaction from the PC owners.
It can even download the antivirus updates on its own. The interface displays clean and clear buttons for everything allowing you to identify which button can be used for what specific task. You can even perform your custom scans through the custom scan button visible on the interface.
In-Built In Every Windows 10 Device
If you are a Windows 8.1 and 10 OS owner, you do not have to worry about the clumsy download and installation process related to antivirus software. Windows Defender is pre-built into every Windows 10 device and is ready to be used as soon as you launch your personal computer.
It works silently in the background, ensuring that your personal computer is free from any virus and malware intrusion.
Real-Time Protection
Windows Defender antivirus solution offers real-time protection against numerous types of malware. It continually looks for potential malware that can cause damage to your personal computer and prevents them from getting auto-installed on your device.
It is recommended to leave the real-time protection feature turned on for the maximum amount of safety. Though, you will have to turn it off while installing an application as it won't get installed otherwise. However, once the application is installed, it will again be turned on automatically.
Minimum System Impact
Windows Defender offers good performance as compared to some of the other antivirus solution, with minimum system impact. It runs quietly in the background and does not make use of much of your computing resources.
The full scan and custom scan are quite efficient and you can perform your other task with great efficiency while running them. It even has a gaming mode that offers maximum resources for you to enjoy a seamless gaming experience.
Offline Malware Scanning
The offline scan offered by Windows Defender is a quite effective and powerful tool to get rid of unwanted viruses and malware. It can remove even the most stubborn malware from your PC. It scans your personal computer even before the entire OS is loaded, ensuring that the viruses are detected and removed from the system.
With the offline scanning procedure, the antivirus solution can detect and remove the virus and malware that can otherwise go undetected.
Windows Defender Cons
Limited extra features
Scores lower in lab test results
Limited Extras
Windows Defender does a good job in offering protection against viruses and malware. However, it has a limited number of extras to offer. As there is no paid version of the antivirus solution, you will have to find a different service if you are looking for extra features like file shredder, password manager, and VPN.
Many users require an in-built VPN service with their antivirus solution. If you are one of those, Windows Defender is not the right product to go for.
Lower Lab Scores
As compared to the other antivirus solution, the lab scores of Windows Defender are a bit on the lower side. AV-Test regularly compares the antivirus solution on three different elements – Performance, Protection, and Usability.
During the early AV-Test, received a score of 5.5 out of 6, which is a bit lower in comparison to other antiviruses, but is not all that bad. However, the one aspect where it is quite bad as compared to others is in detecting false positives.
Frequently Asked Questions about Windows Defender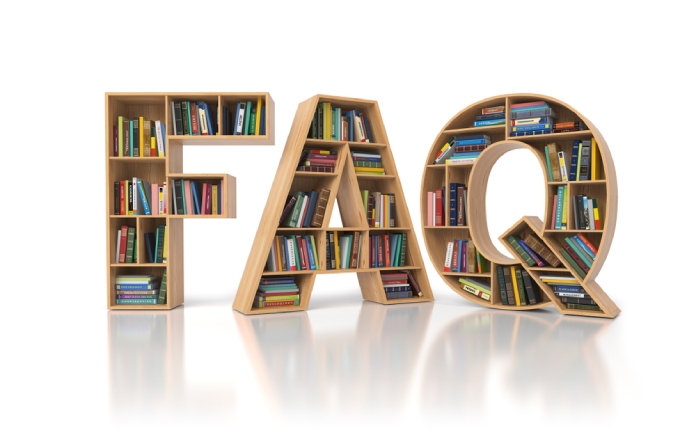 Is Windows Defender a good antivirus?
At present, Windows Defender offers proper antivirus protection against viruses and malware. However, whether it is a good antivirus or not, completely depends upon the kind of requirements you have. If you need basic protection against malware and viruses, it is good. If you need extras like two-way firewall and VPN, look elsewhere.
Is Window Defender any good?
Over the past years, there have been quite a few improvements in the Windows Defender antivirus solution. It provides real-time protection to ensure that your personal computer is free from any malware intrusion, along with protection against phishing and ransomware. It has even performed well in detecting zero-day malware in independent lab tests.
Is Windows 10 Defender Enough?
It depends on individual requirements. Like stated previously, if you only need basic virus and malware protection, Windows Defender works quite well for a free antivirus. However, for services like VPN and password manager, you will have to get another third-party antivirus that offers more premium services.
Windows Defender Extra Features
Firewall
Windows Defender is not a feature-rich software in any manner, but it certainly offers some good extra features like firewall protection. Though one-way firewall, it is undoubtedly effective and provides comprehensive network protection. Since Windows Defender is integrated into the OS, the firewall can be used for network troubleshooting capabilities. It can help you in identifying and rectifying network issues.
Parental Control
Parental Control is another additional feature that Windows Defender users can make use to restrict their children's access to malicious websites. Parents can also monitor their children's activities on the internet and potentially save them from being a victim of ransomware and identity theft attack. You also get the ability to set screen time to control their device usage.
Fresh Start
There is also a new start feature option in Windows Defender antivirus that allows the PC owners to start fresh by installing the latest Windows version. It will enable you to get the OS refreshed and at the same time keeps all of your files intact and as it is.
This feature improves the performance of the PC and user experience vastly, with an increase in battery life and memory storage. Though, you might have to re-install some of the application back onto your personal computer. Using the Fresh Start option is one way to boost the performance of the system when it seems to have slowed down.
Windows Defender Price and Plans
Fortunately for millions of PC users around the world, Windows Defender antivirus solution is free. It can be used without paying a single cent for as long as you want. All of its services and security offering can be availed for free forever. The product is pre-installed into Windows 8.1 and Windows 10 devices and is ready to go, as soon as you start your PC.
For users who are using Windows 7 and lower OS, will have to download the Windows Security Essential from the Microsoft website. It is also available for free and can be used as long as required.
However, you cannot upgrade to paid plans as there is none. Windows do not offer any paid plans, and you can only get what they provide with the free version. Thus, if you are looking for any extras, you will have to look elsewhere that offers premium services.
Overall, the forever free Windows Defender solution offers good security for your Windows OS and is quite better in comparison to some of the other free security solution. Besides that, it won't even bug with the constant annoying upgrade notifications and popups that can be found in many other antivirus brands.
Windows Defender Setup
For Windows OS
The Windows Defender Antivirus solution comes pre-installed on your Windows 8.1 and 10 OS, and there is no need to download and set it up manually. However, if you are using Windows 7 and other OS, then you will have to download Windows Security Essential and install on your system manually.
To download security essentials, go to the official Windows website and search for "Security Essential Download." Now, select your operating system, and the download will start automatically.
Follow the instructions as provided on the installation window, and the set up will be completed without any hassle. And within a few clicks of installation, your system will now be protected with the free antivirus solution offered by Windows.
For Mac OS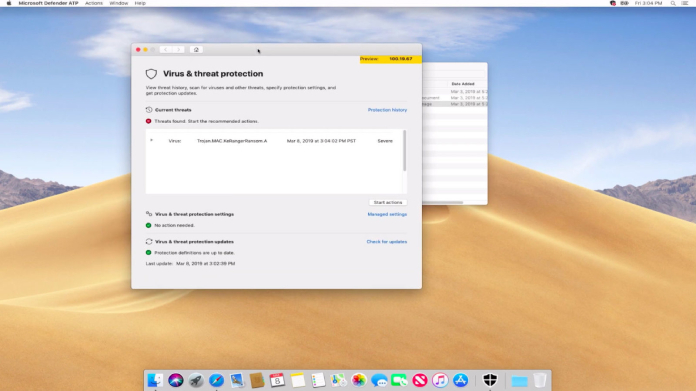 Widows recently launched their antivirus solution for Mac operating system, allowing mac PC owners to utilize the free antivirus solution, just like Windows users.Follow the steps to download and install the Windows Defender for Mac OS.
Visit Windows Defender Security Center and select Settings. Now click on machine management and then on-boarding
Now select OS to Mac and set the deployment method to a local script.
Now download the installation package and on-boarding package.
To install the packages, navigate the file, and click open.
Select to continue once you open the file and enter the password if prompted
Follow the steps and allow the installation process to complete. You can select whether you want to enable real-time protection or disable it. It is advisable to turn on the real-time protection and make maximum use of the protection offered by Windows.
Mac users get access to all of the functionality that Microsoft has been seen offering to Windows users. With real-time protection and firewall protection, the antivirus is an excellent asset for Mac PC owners to safeguard their information and identity on the internet with this free solution.
Our Verdict
Windows Defender is a good antivirus and anti-malware solution that has improved a lot in the recent few years. It can detect the majority of the zero-day malware and can offer real-time and cloud-based protection. With its fast performance and offline scan capabilities, the software is one of the best free antivirus available in the market.
It ensures that all of the stubborn and deadliest malware is removed and the system is protected without any damage caused. With features like Fresh Start, parental control and firewall, it indeed remains to be one of the top contenders for free antivirus offerings.
Though you will not get features like VPN and file shredder, you have to take into consideration that you can use the software for free forever. Even Mac PC owners can download and install the antivirus for free now.
Let us know if you have any questions about the Windows Defender antivirus solution and feel free to comment below, to let our community know about the exciting features that you thought we missed in our review. We would like to hear from you and any questions or suggestions that you may have for your readers.
The most popular Antivirus Reviews